Bowl of Sunshine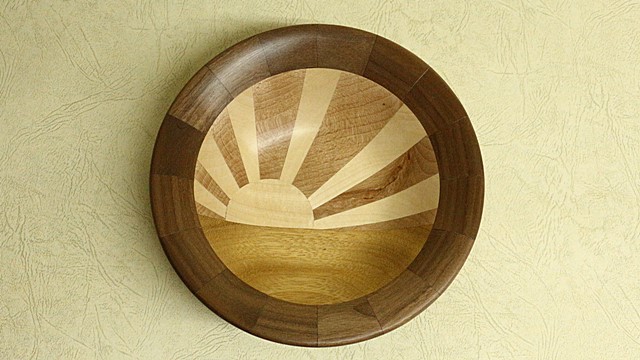 Select an image below then hover over the larger picture to zoom in
Even though their heyday was a little before my time, as a young child I was always fascinated by the art deco rising sun styles of the 1940's radio grilles. As a young child I can account for meeting many variations, either when visiting friends or on display in antique shop windows.
There was just something about the design my young brain liked. Fast forward well over half a century and it felt I just had to emulate the style in a segmented bowl design.
Four species of wood were used. Beech for the sky, Limewood for the sun and sunbeams, Iroko for the ground and segments of Walnut for the rim. The finished 175mm diameter bowl stands 50mm high and is finished with an waxed acrylic lacquer buffed to a high sheen.
©2016- Stephen's 8x6 Workshop - No menu at the left? Click Here